Apple Begins Selling Unlocked SIM-free iPhone 6 and iPhone 6 Plus Models in America

The guys from Cupertino have recently begun selling unlocked and SIM-free iPhone 6 and iPhone 6 Plus models in the USA. Such smartphones are currently available on Apple's American online store. Still, there's one drawback: those who plan to purchase one of such carrier-free handsets will have to wait several days. The shipping estimates for the aforementioned models are 3-5 business days.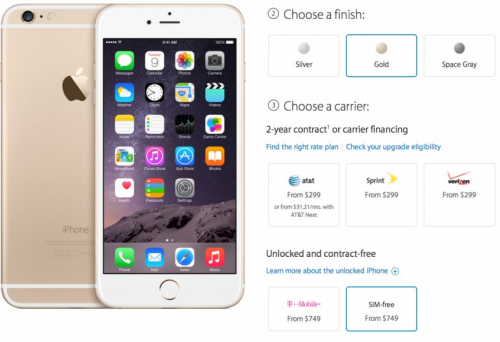 As to the prices for SIM-free iPhone models, they start from $649 for the basic 16GB iPhone 6 version. The high-end 128GB iPhone 6 Plus will cost $949.
The SIM-free versions of the iPhone 6 and 6 Plus are the same as the full-priced, carrier-specific models that have been sold by Apple since the launch of both phones. For example, the iPhone 6 models offered by T-Mobile have been unlocked since launch, although it is unknown why Apple chooses to advertise both.
Another piece of good news is that you can choose any memory capacity and color option you like. All of the iPhone 6 and iPhone 6 Plus models are in stock now. If you live in the USA and plan to purchase a carrier-free iPhone, the time has come to do that.
[via MacRumors]

Leave a comment