Apple to Announce Financial Results in Fiscal Q1 2015 on January 27th

According to the data that can be found on Apple's official Investor Page, the guys from Cupertino will officially announce their financial results in the first fiscal quarter of 2015 on Tuesday, January 27th. The conference devoted to the earnings in the first quarter is scheduled to begin at 2:00 PM Pacific / 5:00 PM Eastern time. The report on sales and financial results will be published on Apple's official website immediately after the conference call.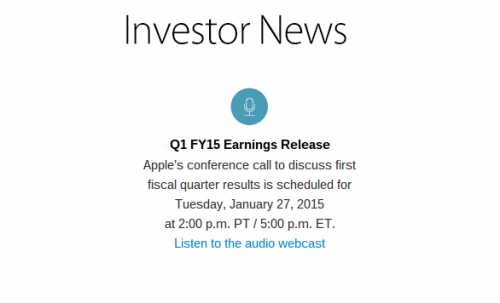 In case you don't know, last quarter Apple earned $42.1 billion in revenue and $8.5 billion in profit. Due to strong holiday sales and the popularity of the iPhone 6, iPhone 6 Plus, iPad Air 2 and iPad mini 3, this quarter may become even more successful for the company from Cupertino. In particular, Apple experts expect the revenue between $63.5 billion and $66.5 billion and that is an incredibly large sum of money.
If to talk about me, I'm curious about how much money Apple managed to earn during the holiday season. Let's wait for the conference.

Leave a comment