Apple Fixes Vulnerabilities Used to Spy on Users in iOS 9.3.5

Apple has recently released iOS 9.3.5 with a number of security fixes and other minor enhancements. Most importantly, the latest update fixes the vulnerabilities used by various government agencies throughout the world to spy on criminals, journalists and those who represent threat or interest to the country or other official bodies. In total, there had been three vulnerabilities that Apple patched.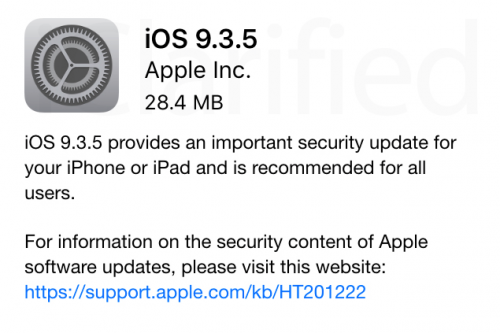 The aforementioned vulnerabilities were discovered and consequently sold to law enforcement agencies and governments by an Israeli firm called the NSO Group.
The vulnerabilities were brought to light after UAE human rights activist Ahmed Mansoor received some suspicious text messages. He shared the messages with Citizen Lab who then brought in Lookout to help examine the code. Together they discovered the three previously unknown iOS vulnerabilities and informed Apple about their existence.
The release of iOS 9.3.5 comes only a couple of weeks after the release of iOS 9.3.4. Most likely, this is the last firmware version before the release of iOS 10.
[via iClarified]

Leave a comment