Apple Has Become Leader of the U.S. Smartphone Market... Again

The company from Cupertino is again the leader of the U.S. smartphone market, CIRP reports. Back in Q3 2013, Samsung was a leader with 38% share and Apple was falling behind with 34%. As we can see now, thanks to the new iPhone 5s and iPhone 5C releases, the guys from Cupertino managed to regain leadership. Take a look at the picture below.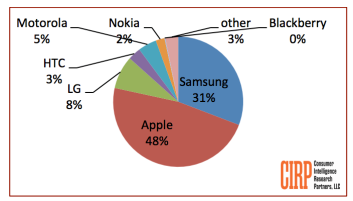 9to5Mac writes that:
As pictured above, the report shows Apple now has increased its share to around 48% in the US compared to a drop down to 31% for Samsung. While Samsung doesn't report specific numbers for handset sales, Apple reported during its fiscal Q1 14 earnings results that it sold a record 51 million iPhones last quarter.
Samsung's Galaxy S5, which is expected to be released in spring, can possibly increase the share of the South Korean company. Nevertheless, keep in mind that Apple will also introduce its next-generation iPhone in 2014, so the chances to become the leader of the U.S. market are almost equal.

Leave a comment