Apple Has Replaced Kid's Table iMacs With iPads In Its Retail Stores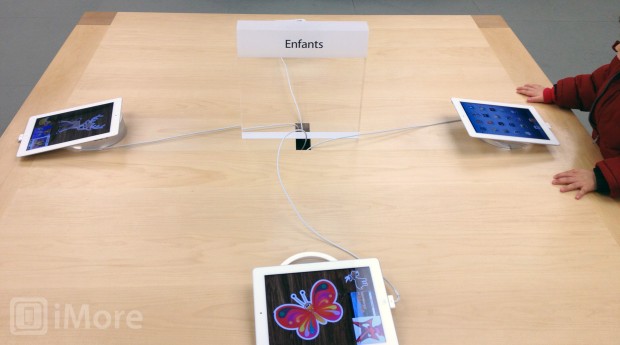 According to iMore, Apple has replaced iMacs with iPads on the kid's table at Apple's retail stores. Previously, iMacs were loaded with games for kids and were placed on the kid's table at children's height. But with the switch not much has changed: four iPads on the kid's table are loaded with apps that allow children to read books, draw and more.
The kid's table has been one of the major features in Apple Retail Store since the opening of the first location more than 10 years ago. The tables were surrounded by black balls for children to sit on that was made by Baleri Italia company and cost more than $500 each.
The switch is definitely right decision on Apple's part, as iPads are much easier for children to use. Instead of using a mouse to navigate on a large display, children can now navigate their favorite apps by touching the screen.
A few months ago Apple also replaced MacBook Pros with iPads in Genius Bars. It is clear that Apple sees iPad as its future; Tim Cook even said about this fact himself. It obviously makes sense for Apple to hook children while they are young, so they remain its customers for life.

Leave a comment