Apple improving iTunes account security with stricter requirements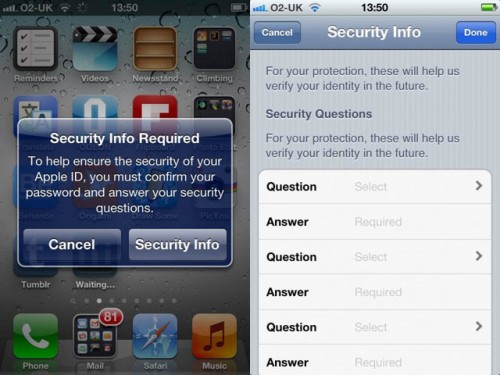 Ars Technica reports that Apple has began asking users of iOS devices to select and answer some question related to their Apple IDs. Such measures were reportedly taken by the company to improve security of iTunes accounts.
After being shown the message, users are asked to select from a number of security questions and provide personal answers. Users are also prompted to provide a backup e-mail address in case the primary address associated with their Apple ID is compromised.
The changes are made to curb fraud and prevent steeling iTunes accounts that contain information about credit cards. Furthermore, these changes are only the latest in a series of measures undertaken by Apple over the years to improve security associated with iTunes accounts.
Some users have been confused by the new security prompts appearing this week, and have expressed concern on the Apple Support Communities website that the alerts could be bogus phishing attempts. However, the revised measures have been proven to be legitimate, and Apple has admitted they are part of an ongoing effort to bolster security.

Leave a comment