Apple expected to report sales of 33M iPhones, 12M iPads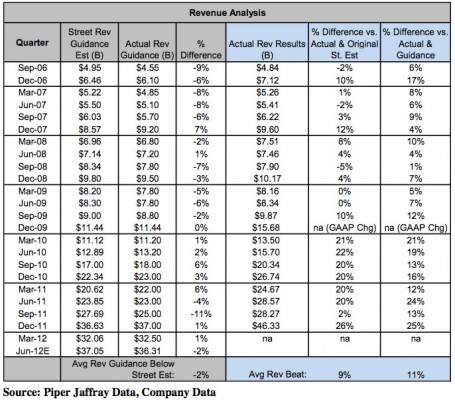 Piper Jaffray analyst Gene Munster has recently announced his estimates of Apple sales for the first calendar quarter of the year 2012 ahead of the earnings call set for March 24.
Piper Jaffray analyst Gene Munster's numbers differ from the average expectations on Wall Street. He expects the company sold 33 million iPhone that is a bit higher than the Street's forecast of 30.5 million handsets, while his forecast of 12 million iPads is slightly below the Street's 13 million. He also suggests Apple will report on 4.3 million Macs sold in the three-month span from January to March.
If Apple's actual results are in line with the last four years, it will report 6 percent upside on its revenue, and 16 percent upside to earnings per share. That would imply March revenue of $38.3 billion and earnings per share of $11.41, compared to Wall Street expectations of $36.2 billion in revenue and $9.86 EPS.
As for the iPad, Munster isn't concerned that Apple may not meet the Street's expectations of 13 million units sold.
"We note that wait-times on Apple's online store remain at 1-2 weeks for all versions of the iPad, suggesting that healthy demand remains," he noted.

Leave a comment