Apple Increases iPhone and iPad Prices in Germany

Apple has slightly increased the prices of several iPhone and iPad models in Germany to comply with the changes to copyright laws that took effect on January 1st. The smartphones sold through Apple's official online store in this country now cost 5 euros more compared with the prices for December 31st, 2015 and the tablets cost 8 euros more.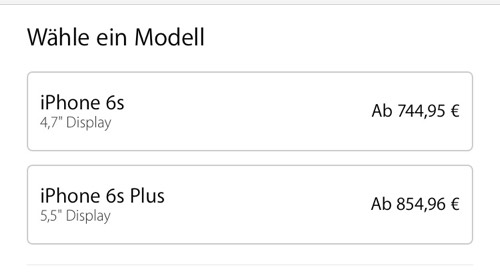 Apple has changed the prices of such iPhone and iPad models:
iPhone 6s
iPhone 6s Plus
iPhone 5s
iPad Pro
iPad Air 2
iPad Air
iPad mini 4
iPad mini 2
In December, the entry-level iPhone 6s had a price tag of 739 euros. Now it costs 744.95 euros. The price of the 12.9-inch iPad Pro grew from 899 euros to 907.33 euros.
It's very unlikely that such a small change will somehow impact the iPhone and iPad sales in this European country. The prices of Apple products differ slightly from country to country due to various factors such as import charges, taxes etc., but Apple tries to keep them on the more or less similar level.
[via iDownloadBlog]

Leave a comment