Apple Is Working on New Charger for iPhone 6 - Rumor

Alongside the updated Lightning cable with reversible USB connector, which has been recently spotted online, the guys from Cupertino may be planning to release a new charger. An image that proves such a rumor has surfaced on a Chinese social network Weibo. You can take a look at this photo below.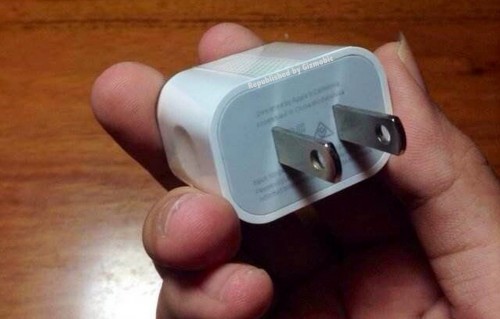 There's no way to check the legitimacy of the leaked image, anyway, I think that what is depicted on it is actually a genuine charger for the upcoming iPhone 6. Despite this fact, I recommend to take the photo above with a few pinches of salt.
Apple may be planning to unveil a new charger design alongside its new Lightning cable with reversible USB connector. Gizmobic spotted a photo of the alleged new charger on Weibo.

Notably, the charger features a design that is very similar to the Australian charger; however, it is a standard NEMA-1 plug with two flat parallel blades.
As it was reported earlier, the guys from Cupertino will show us their brand new 4.7-inch iPhone 6 on September 9th. Whether we'll see the 5.5-inch handset at the same media event is still a question without an answer. Anyway, let's hope for the best.
[via iClarified]

Leave a comment