Apple Issues Invitations for iPad 3 Media Event on March 7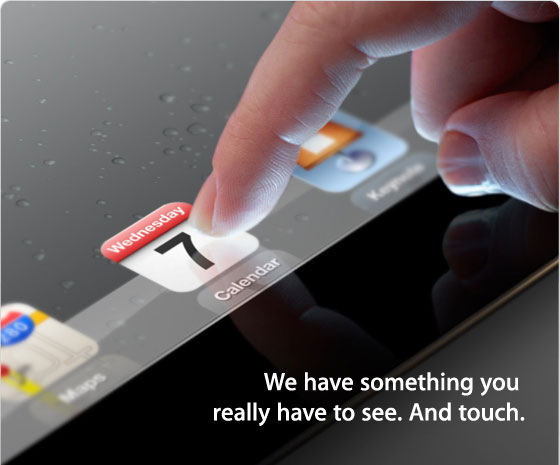 On Tuesday Apple sent out official invitations for the iPad 3 media event which indeed will be held next Wednesday, March 7, in San Francisco. In fact, the invitation itself could even be a picture of the new iPad display. The image does show a very crisp iPad screen that could be a higher resolution than the current iPad 2.
The March 7 event will be held at 10 a.m. Pacific, 1 p.m. Eastern at the Yerba Buena Center for the Arts in San Francisco, Calif., the same place the last two iPad unveilings have been held. The invitation features a finger pushing down on an iOS calendar icon with March 7 as the date.

"We have something you really have to see. And touch," the invitation reads.
We are still expecting to see the new Apple's tablet with the high-resolution Retina Display. Rumors have suggested the display will have a resolution of 2,048 by 1,536 pixels, which would be twice the resolution of the 1,024-by-768 screen found in iPad 2. Other changes to the iPad are expected to be largely internal: potential 4G LTE connectivity, a faster processor, probably, the more powerful version of A5 CPU currently used in the iPad 2 and iPhone 4S. Rumors say that A6 CPU have a possibility to appear in iPad 3 too.

Leave a comment