Apple Launches iPhone Trade-In Program in Italy

Apple has recently launched its Apple Store iPhone trade-in program in Italy. Moreover, this program will be available in Australia as soon as next week, people familiar with the matter claim.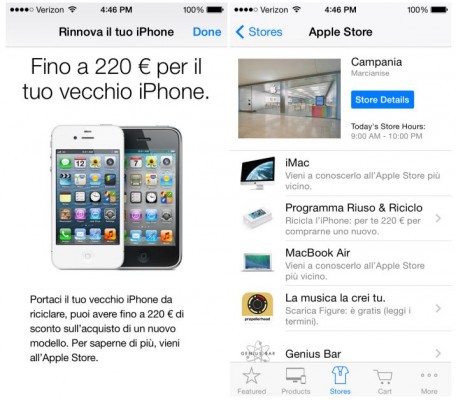 In case you don't know, the so-called "Reuse and Recycle" trade-in program allows users to change their old iPhones in working condition for a discount on newer models. If to speak about Italy, here one may get up to €220 (about $300) for an older handset. I must admit, it's a good discount.
Apple has added another market for its Apple Store iPhone "reuse and recycle" trade-in program: Italy. This is indicated by a new panel inside of the Italy Apple Store listings within the official Apple Store app. The app indicates that Apple is offering trade-ins of older iPhones models for up to €220. This converts to roughly 300 U.S. dollars.
Apple's iPhone trade-in program was launched in the USA last year. Since that time, it has expanded to Spain, the U.K, Germany, Canada, France and Italy.
[via 9to5Mac]

Leave a comment