Apple looking into hybrid wireless headphones for "active" users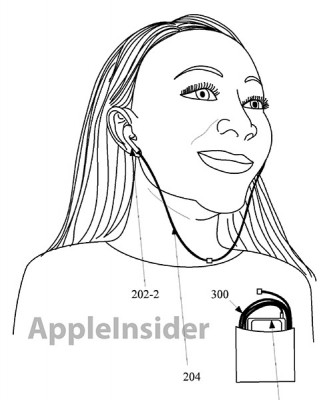 The U.S. Patent and Trademark Office on Thursday published Apple's patent application which was filed in March 2011. The patent, titled "Detachable wireless listening device," demonstrates a unique set of headphones, designed to withstand the rigors of athletic activity by eliminating the need for cumbersome cords.
Apple notes that, while inexpensive and efficient, common wired headsets like earbuds are "susceptible to becoming entangled while the end user is participating in physical activity." To solve the trouble, Apple suggests a type of hybrid system that can receive audio data through a cable as with traditional earbuds, but can also be detached from the device and operate wirelessly when needed.
The clever "listening device" is connected to the player by either a physical clip or detent, or a series of magnets. When attached, the headphones are able to use the cord as an RF antenna with data being processed by the host device, and a means of power for charging a set of built-in batteries. While connected, the headphones receive audio signals through the cable and are able to tap into the media player's power supply if needed, thus saving precious energy for untethered use.

If the headphones becomes detached, either by the user or unintentionally, the host device seamlessly pauses the charging process, activates a wireless module and begins to send audio over Bluetooth of some other form of radio communication. The patent notes that stereo audio can be provided to the wireless headset by assigning each side, right and left, a unique wireless address.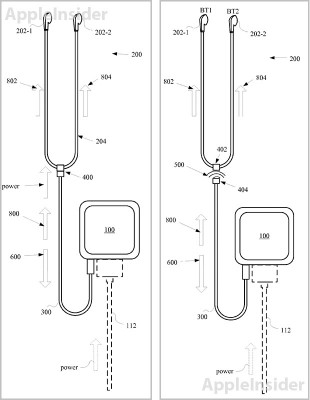 Leave a comment, read comments [2]