Apple Now Selling Brazilian-Made iPhone 4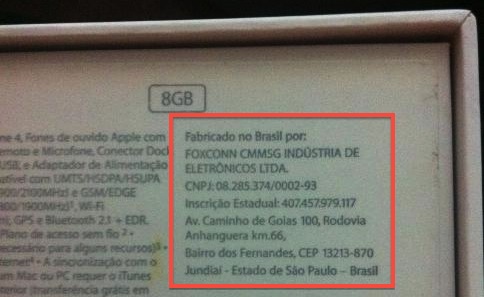 Apple's efforts to diversify iPhone and iPad manufacturing locations and make the devices more affordable in the world's fifth most populous country by eliminating high import taxes has resulted in moving production into Brazil where Foxconn built its factory. The factory has already begun manufacturing the iPhone and Apple has indeed begun selling the Brazilian-made 8 GB iPhone 4 through its online store in that country.
The iPhone 4S and 8 GB iPhone 4 debuted in Brazil in mid-December, but early models were manufactured in China and carried very high pricing with the iPhone 4S starting at the equivalent of over $1400. With exchange rate fluctuations that figure is now over $1500, while the cheaper 8 GB iPhone 4 still comes in at a hefty $1050. The unlocked iPhone 4 is priced at $549 in the United States.
Apple's online store is also now referring to the black and white models as MD128BR/A and MD198BR/A respectively, with the MD198BR number having been seen on the previously-leaked iPhone 4 from Brazil. The Chinese-made 8 GB iPhone 4 had originally launched in Brazil with MD128BZ/A and MD198BZ/A model numbers. It is not clear exactly when Apple made the transition to selling Brazilian-manufactured iPhone 4 units, but it appears to have been at least several weeks ago.
Despite the fact that the iPhones are manufactured in Brazil, there prices there still remain relatively high. Notably, the iPhone 4S does not yet appear to be being manufactured in Brazil, with those devices continuing to carry "BZ" model numbers identifying them as manufactured in China for the Brazilian market.

Leave a comment