Apple Offering Half of Royalty Rate Paid By Pandora For Streaming Music Service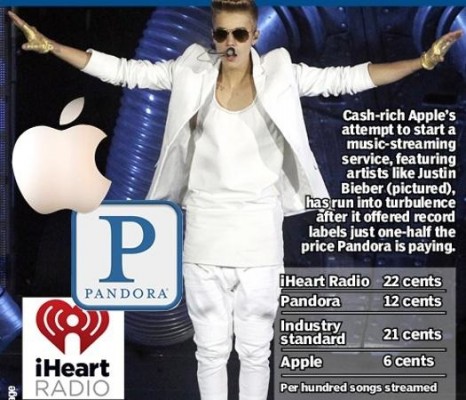 According to The New York Times, Apple is going to undercut its future competitors in respect of royalty rates for its upcoming streaming music service, offering a rate that is just half as large as the rate paid by Pandora despite speculations that Apple is planning to offer more flexibility than allowed by the Pandora's license. The report said:
"The tech titan, the most valuable company in the world, made an initial offer to the label of about 6 cents per 100 songs streamed, sources said.

That's about half of the 12 cents per 100 songs paid by Pandora, the leading online radio service that Apple is taking aim at, sources said. [...]

By comparison, terrestrial radio-backed online services — such as iHeart — pay about 22 cents per 100 songs streamed.

Subscription service Spotify pays the highest rate for its service, 35 cents per 100 songs streamed, sources said".
Labels are reluctant to accept Apple's offer with music label insiders suggesting that Apple should pay at least 21 cents per 100 songs streamed, the rate that was set by Copyright Royalty Board.
Sources said that Apple is considering launching its service called iRadio as part of a bundle with iTunes Match service, though iRadio service would be ad-supported.
The New York Times also said that Apple had planned to release its iRadio service along with the iPhone 5 launch, but due to the difficult licensing negotiations with record labels the launch was delayed until summer, if not later.

Leave a comment