Apple released new firmware iOS 4.3.2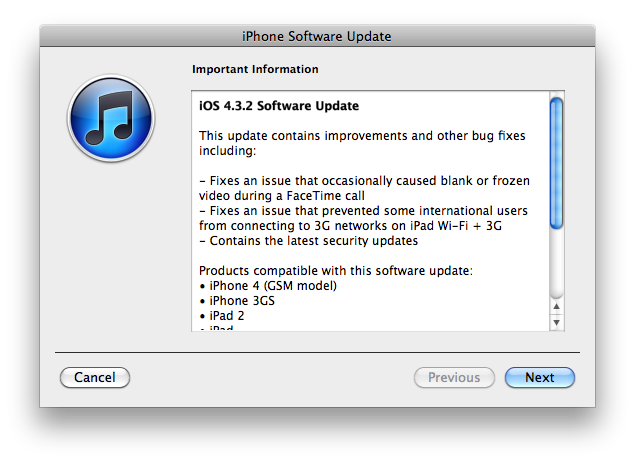 Apple has released iOS 4.3.2 for the iPhone, iPad, and iPod touch.
This update contains improvements and other bug fixes including:
Fixes an issue that occasionally caused blank or frozen video during a FaceTime call
Fixes an issue that prvented some international users from connecting to 3G networks on iPad W-Fi + 3G
Contains the latest security updates
Products compatible with this software update:
iPhone 4 (GSM model)
iPhone 3GS
iPad 2
iPad
iPod touch (4th generation)
iPod touch (3rd generation)
For information on the security content of this update, please visit http://support.apple.com/kb/HT1222.
Apple has also updated the firmware for the Verizon iPhone to 4.2.7 although this wasn't listed in the release notes.
Current jailbreak tools work with iOS 4.3.2 in tethered mode only. Please save your SHSH keys for iOS 4.3.1 asap.
Here are direct download links for the latest firmwares:
device
current version
date found
AppleTV(2G) (AppleTV2,1)
4.2.1 (8F202)
03/22/2011 16:12:01
iPad (iPad1,1)
4.3.2 (8H7)
04/14/2011 13:06:02
iPad2,1 (iPad2,1)
4.3.2 (8H7)
04/14/2011 13:06:02
iPad2,2 (iPad2,2)
4.3.2 (8H7)
04/14/2011 13:06:02
iPad2,3 (iPad2,3)
4.3.2 (8H8)
04/14/2011 13:06:02
iPhone (iPhone1,1)
3.1.3 (7E18)
04/08/2010 21:05:48
iPhone3G (iPhone1,2)
4.2 (8C148)
11/22/2010 13:08:57
iPhone3GS (iPhone2,1)
4.3.2 (8H7)
04/14/2011 13:06:02
iPhone4 (iPhone3,1)
4.3.2 (8H7)
04/14/2011 13:06:02
iPhone4(vz) (iPhone3,3)
4.2.7 (8E303)
04/14/2011 13:06:02
iPodTouch(2G) (iPod2,1)
4.2 (8C148)
11/22/2010 13:08:57
iPodTouch(3G) (iPod3,1)
4.3.2 (8H7)
04/14/2011 13:06:02
iPodTouch(4G) (iPod4,1)
4.3.2 (8H7)
04/14/2011 13:06:02
last updated: 04/14/2011 13:14:02 EDT

Leave a comment