Apple Releases iOS 11.0.2 With Fixes to Some Issues

Apple has released another update to its iOS 11 that includes fixes to some issues the customers were complaining about.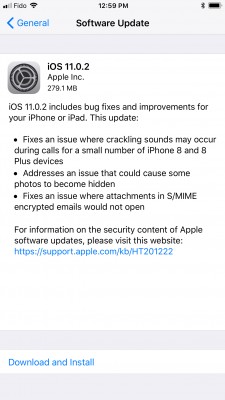 First and surprisingly fast update is a fix for a crackling sound. Some users experienced such kind of sound distortion during the cellular calls. Fortunately, this is not a hardware issue, so if you experienced that, you can now get the update to get rid of the problem.
Another fixes concern photos that sometimes appeared to be hidden and not opening attachments in S/MIME encrypted emails.
Sometimes it's better to opt out from the new versions until it becomes stable, but if you have already updated to iOS 11 and experienced any of the aforementioned issues, Apple says they are fixed in iOS 11.0.2.

Leave a comment