Apple Releases iOS 9.0.1 with Numerous Fixes and Improvements

A couple of days ago, Apple released iOS 9 to users worldwide. The update turned out to be quite unstable and many users reported various issues connected with it. As can be seen on Apple Support Communities, the most popular was the one causing iPhones and iPads to freeze on the 'Slide to Upgrade' screen. To resolve this issue and a fix a number of other bugs causing constant app crashes and lags, Apple on Wednesday released iOS 9.0.1 with numerous changes. The most-recent version is aimed at improving the stability and performance of iOS as well as at fixing the most common problems.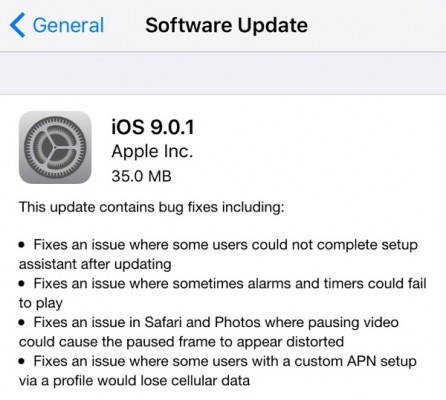 The update reportedly fixes the 'Slide to Upgrade' bug, enhances the work of Safari and Photos and resolves a problem where alarms and timers fail to play. The full list of improvements is available at link.
iOS 9.0.1 is a minor update, however, it is recommended for all iOS 9 users. If you have a compatible iPhone, iPad or iPod touch and iOS 9 on board, you can upgrade right now. Open the Settings app and hit the Software Update tab.
Apple is expected to release iOS 9.1 later this fall. This update will be likely optimized for the 12.9-inch iPad Pro.

Leave a comment