Apple Releases iOS 9.1 Beta 2 to Developers

Following the release of iOS 9.0.1 with a wide number of bug fixes and stability improvements to users worldwide, Apple has just seeded the second beta of iOS 9.1 to developers. This pre-release version contains a number of minor enhancements aimed at making the software more stable and efficient. Looks like there are no new features added to the latest beta.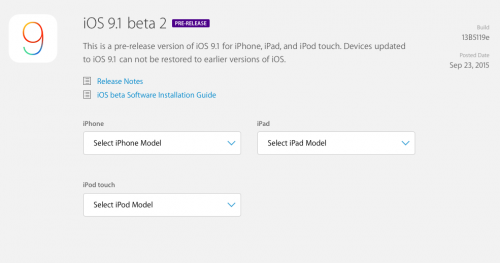 The latest iOS 9 beta 2 has a build number 13B5119e. Here's what Apple writes about the second update for developers:
This is a pre-release version of iOS 9.1 for iPhone, iPad, and iPod touch. Devices updated to iOS 9.1 can not be restored to earlier versions of iOS.
If you have a compatible iPhone, iPad or iPod touch and a registered developer account, you can download and install the latest software version right now. Keep in mind this is a pre-release build, so it may be quite unstable and cause compatibility issues.
Looks like Apple has finally fixed the bugs causing lags and system crashes in the latest update.

Leave a comment