Apple Releases iOS 9.3.1, Fixes Web Links Issue

Apple has released a new build of iOS 9.3.1 with fixes for the recent web links bug affecting Safari, Mail, Chrome and a number of other applications. Over the past couple of days, iOS 9.2.1 and iOS 9.3 users have been reporting about app freezes and crashes after tapping on links inside of these apps. Hopefully, the update resolves the problem.
Here's what Apple writes about the latest iOS build:
Fixes an issue that caused apps to be unresponsive after tapping on links in Safari and other apps.
If you have a compatible iPhone or iPad and face the aforementioned problem, it is recommended that you update as soon as possible. If your phone or tablet works fine, you can either skip this iOS version or install it, it is all up to you.
The update is available via Software Update section on your device or through iTunes. The size of the new build is 35.3MB.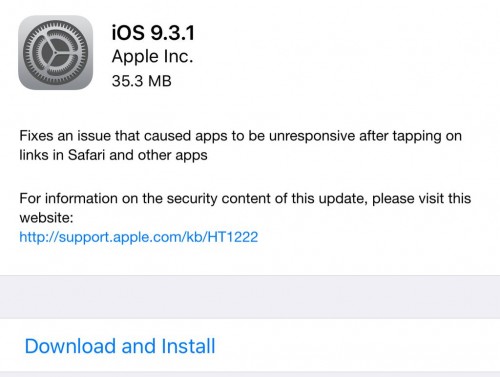 Leave a comment