Apple Releases iOS 9.3 Beta 3 to Developers for Testing

Apple has just seeded the third iOS 9.3 beta to developers for testing. This is probably the last but one build for developers released until the alleged debut of iOS 9.3 in March alongside the new 4-inch iPhone 5SE, iPad Air 3 and the updated Apple Watch. The list of improvements and enhancements includes bug fixes and refinements to the features added in previous betas. These features include the Night Shift mode, secure Notes, updated News and CarPlay. iOS 9.3 Beta 2 brought a separate Control Center toggle for Night Shift, which is present in the third beta, so looks like the change is permanent.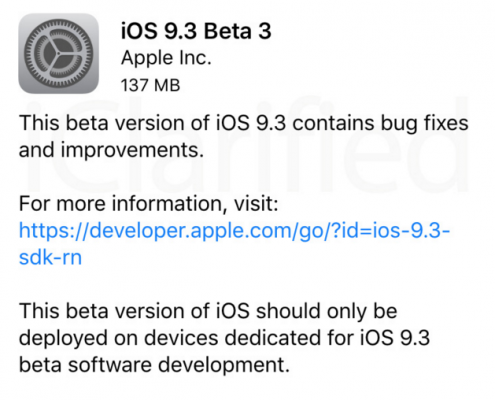 If you have a registered developer account and plan to test the latest pre-release version of iOS 9.3, you can download and install it on your compatible iPhone, iPad or iPod touch right now. However, keep in mind that beta software can brick your device, so it is not recommended to install it on your main smartphone or tablet.
iOS 9.3 Beta 3 is not yet available for public beta testers, but soon Apple will surely let public testers play with it.

Leave a comment