Apple Releases New Build of iOS 5.1.1 for GSM iPhone 4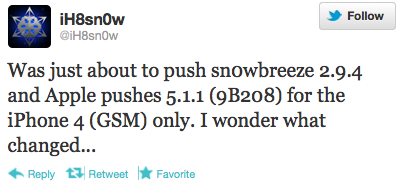 Apple has released a new build of iOS 5.1.1 for the GSM iPhone 4, notes iH8Sn0w.
Was just about to push sn0wbreeze 2.9.4 and Apple pushes 5.1.1 (9B208) for the iPhone 4 (GSM) only. I wonder what changed...

same baseband.

it seemed rushed. They compiled it yesterday morning. Probably released it just to troll.

Of course, we advise you not update to the new version for now and make sure you have your SHSH blobs saved.

Leave a comment, read comments [3]