Apple Releases OS X Mavericks 10.9.2 Beta 3 to Developers

Apple has released OS X Mavericks 10.9.2 beta 3 to developers for testing. As to the improvements, this version looks pretty much the same as the one released about a week ago. Apple asks developers to focus on SMB2, Mail, Messages, Graphics Drivers, VoiceOver, and VPN.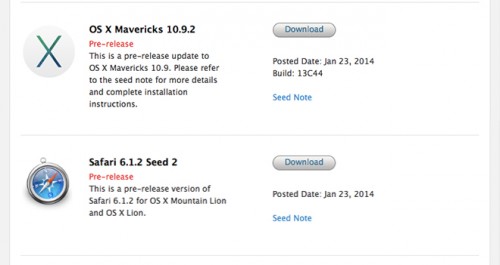 As noted by AppleInsider,
The latest Mavericks beta carries the designation 13C44 and carries many of the same focus areas in the previous release. Apple is once again asking developers to concentrate on Mail, a built-in feature that has caused numerous problems since the operating system's release.
Apart from the new OS X beta, the company from Cupertino has seeded Safari 6.1.2 seed 2.
Developers can grab the latest beta of OS X Mavericks 10.9.2 and Safari 6.1.2 seed 2 via Apple's developer center or Software Update.

Leave a comment