Apple Reports Results for Q3 2012: $8.8 Billion Profit on $35 Billion in Revenue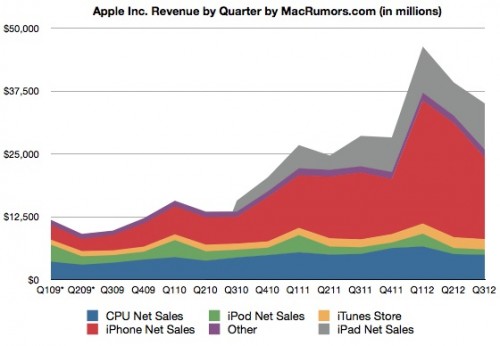 Yesterday Apple announced financial results for the second calendar quarter and third fiscal quarter of 2012. Apple posted revenue of $35.0 billion and net quarterly profit of $8.8 billion. The numbers are dramatically weaker than what analysts were expecting. The company did beat its own guidance, however. Last quarter, Apple said it would make $34 billion in revenue.
Quarterly iPhone unit sales reached 26.0 million, up 28 percent from the year-ago quarter, and the company sold 17.0 million iPads, up 84 percent year-over-year. Apple sold 4.0 million Macintosh computers, a unit increase of 2 percent over the year-ago quarter. The company also sold 6.8 million iPods, representing a 10 percent unit decline year-over-year.
"We're thrilled with record sales of 17 million iPads in the June quarter," said Tim Cook, Apple's CEO. "We've also just updated the entire MacBook line, will release Mountain Lion tomorrow and will be launching iOS 6 this Fall. We are also really looking forward to the amazing new products we've got in the pipeline."

Leave a comment