Apple Researching Motion-Sensing Virtual 3D User Interface for iOS Devices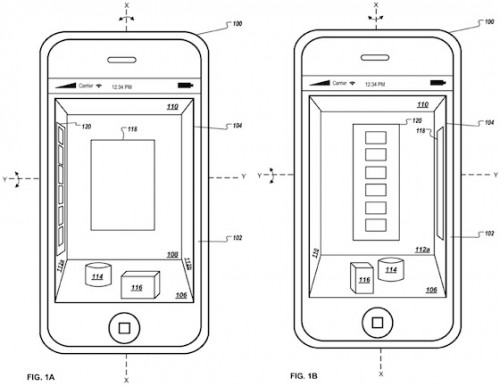 Patently Apple has discovered a newly-published patent application from Apple. The application describes the use of motion sensors to create a virtual three-dimensional interface for iOS devices. Such interface could be a co-called virtual room that could be navigated by changing the orientation of the device. Noteworthy, similar concepts are found in some augmented reality apps.
The invention covers a 3D display environment for mobile device that uses orientation data from one or more onboard sensors to automatically determine and display a perspective projection of the 3D display environment based on the orientation data without the user physically interacting with (e.g., touching) the display.
To navigate such virtual room, Apple offers to use gyroscope sensors. The sensors could be used also to detect gestures above the surface of the device's display in order to allow for natural 3D manipulation of the user interface environment.
The application also describes a "snap to" feature that would allow users to easily transition between various "walls" within the virtual room.
In the middle of 2007, Apple already filed a similar patent, where it discussed multi-dimensional desktops in Mac OS X, showing a virtual room with various groups of icons on the different walls of the room.

Leave a comment