Apple Revealed another Patent Describing New Contextual Ads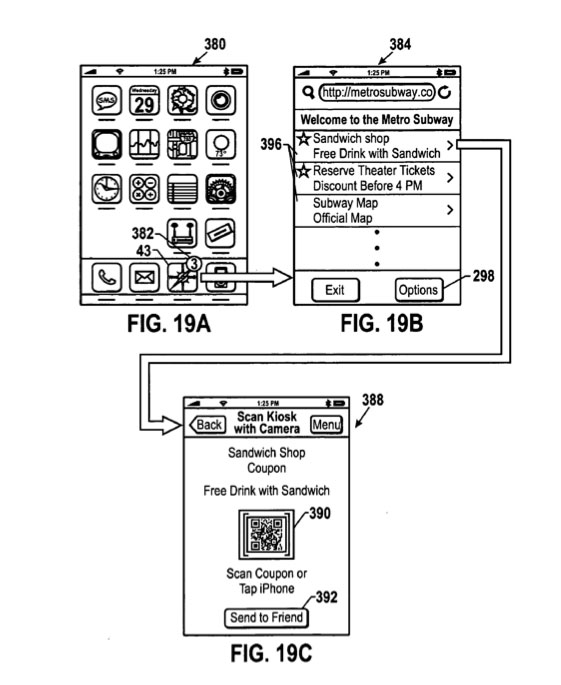 This week Apple revealed new patent application that describes its new superior advertisement technique. The document entitled "System and method for providing contextual l advertisements according to a dynamic pricing scheme."
Its main idea is that the effectiveness of the modern mobile advertisements can be improved with using unique pricing scheme (when advertiser pays variable price that based "on the likelihood of influencing user behaviour") and special marketing factors that can determine the effectiveness of the ad.
The realization of the idea is implemented in the application called "Local Ad". It allows user to see advertisements of local businesses and special promotions while connecting to a Wi-fi network, searching in Safari or accessing the iPhone Maps. Moreover, the ad can be downloaded by device in one place but showed in another. Among other factors that can determine whether app should show the current ad or not are weather, keywords in an Internet search, GPS location and many other.
The app also allows obtaining further information about the object found by user by scanning a matrix code or barcode with the iPhone's built-in camera. In case customer became interested in the promoted product he can make transaction directly from his iPhone.
The document also describes an idea, when Wi-fi network created and supported by city's transit authority allows users to obtain targeted advertisement while they are in a subway or at the bus station.
In future such advertising technique can be used not only in iPhone, but in other Apple products, such as MacBook, Airport or AppleTV.
It is interested that the patent application, originally submitted on November 14, 2008, was revealed only this week, when couple of weeks left for iAd mobile advertising platform to be launched. It also looks as a part of further development of Siri, the personal assistant app that was recently acquired by Apple.

Leave a comment