Apple Start Selling Refurbished 9.7-inch iPad Pro on its Website

Apple has just started selling the refurbished 9.7-inch iPad Pro units with a 15% discount on its official online store. The 12.9-inch iPads have been there since August, but the smaller refurbished model somehow reached the store only yesterday.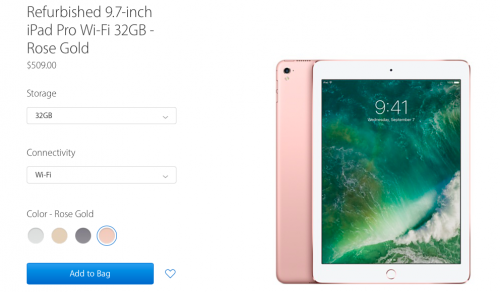 The cheapest 9.7-inch iPad Pro with 32GB of storage and without cellular connectivity is available for $509. The most expensive tablet with 256GB of storage and 4G costs $789.
Earlier this week Apple started selling the refurbished iPhone 6s units on its official website offering the same 15% discount.
Buying a refurbished iPhone, iPad, or any other device makes sense for those who need a decent device, but are on tight budget. All gadgets are tested, repaired and come with the warranty just like the new ones, so it is nearly impossible to see the difference. Even if you are a long-term Apple fan and user.

Leave a comment