Apple Starts Advertising iPhone 6s to Older iPhone Users

As it has been spotted by a number of iPhone users worldwide, Apple is currently advertising the iPhone 6s to those who own an iPhone 5s or an earlier model through the App Store. People see the full-screen image showing a 'ridiculously powerful' iPhone 6s and get a prompt to find out more about the device or upgrade to it immediately.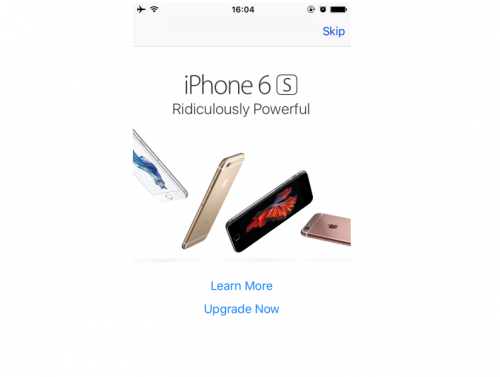 It is definitely not the first time Apple has used the app store to advertise the new iPhone model. The company has had a small iPhone 6s banner and special Featured app collections for the device. However, this is the first time the company uses the annoying full-screen ad that prevents from normal browsing through the App Store. Quite obviously, this led to users' dissatisfaction.
Apple has used the App Store for advertising new iPhones and iPads before, but this is markedly more aggressive and intrusive direct marketing. iOS device users must press the 'Skip' button to get back to what they were doing.
Have you already seen the ad on your device? Let us know in the comments section down below.

Leave a comment