Apple Starts Offering 0% Financing for Purchases Above €400

Good news for all those who live in Europe and think about getting an iPhone or iPad for a discounted price - from now on and up till January 10th one can buy any Apple's device via company's online store and save a few bucks for the holidays. How is it possible? Well, Apple has just started offering 0% financing for purchases above €400.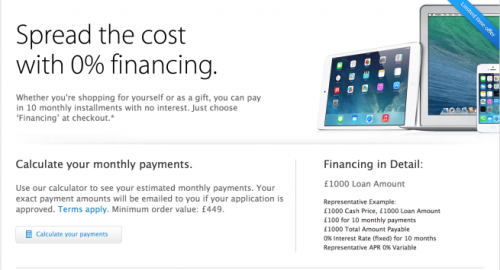 As noted by 9to5Mac,
In the UK, for instance, a customer can buy any product above that value and spread repayments across ten monthly installments with 0% interest. In other countries, such as France or Spain, the repayment is window is slightly longer at twelve months.
So, if you want to make a present for the member of your family, for a friend or simply for yourself - I guess that a brand new iPad will be just the right thing.

Leave a comment