Apple Stopped Signing First iOS 8.1.1 Beta, Official Release Is Near?

Apple has recently stopped signing the first beta of iOS 8.1.1, but hasn't yet released the second one. This indicates that the official release of iOS 8.1.1 may take place in the near future. Just for you to understand: once the new version is released, the guys from Cupertino will stop signing iOS 8.1, making it impossible to jailbreak your device using Pangu8 as well as to restore it to this version of the operating system. As you already know, iOS 8.1.1 kills Pangu jailbreak, so you should not upgrade if you want to keep your iPhone jailbroken.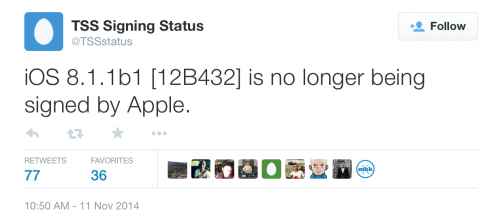 A reddit user, who claims he has connections with Apple, wrote yesterday that the public release of iOS 8.1.1 is scheduled to take place later this week. This piece of information, however, hasn't yet been confirmed, so take it with a few pinches of salt.
Just got back from work and we were told in a meeting today that a public update to 8.1.1 will be distributed within this week. Just a heads up to us Apple Associates for common troubleshooting scenarios we might come across from our customers. I advise you to update to 8.1 now before the window closes!
If you have a compatible device, I recommend you to upgrade to iOS 8.1 and perform jailbreak as soon as possible. It can happen that Apple releases the next version of iOS later, but I believe it is better to be ready to the worst scenario, right?
Update: Apple Resumed Signing the first beta of iOS 8.1.1.

Leave a comment