New iPhones Are Less Popular Among Former Android Users Than Expected

According to the latest survey results published by a research firm Consumer Intelligence Research Partners (CIRP), both iPhone 6 and iPhone 6 Plus are not as popular among Android switchers as they were expected to be. In fact, the amount of former Android users who decided to purchase Apple's handset this year is nearly two times smaller if to compare with 2013. Just look: 12% and 23%. I must admit, the difference is immense. What is even more interesting is that the number of Windows Phone or Blackberry switchers turned out to be smaller in 2014 as well; more people decided to upgrade to the iPhone 5s last year and not to the iPhone 6 or 6 Plus this year. This means that about 80% of the new iPhone buyers are former iPhone owners.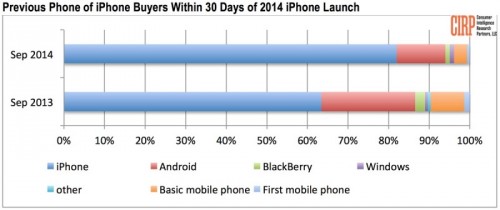 Current iPhone owners accounted for over 80% of buyers after this launch, compared to less than 65% after the iPhone 5S and 5C launch in September 2013. Android owners accounted for a much smaller share of buyers immediately after this year's iPhone launch, and with smartphones so prevalent in the US, we also saw a smaller percentage of iPhone buyers moving from basic phones.
It should be noted, however, that the survey conducted by CIRP included data gathered from only 300 customers who purchased their iPhone 6 or iPhone 6 Plus unit in the period of 30 days after the official release of the smartphones. I believe that such results can't be called fully objective. Take them with a few pinches of salt.
[via MacRumors]

Leave a comment