Apple Stores Around the World to Close Earlier Next Weekend

A large number of Apple's Retail Stores around the world will be closed a few hours earlier next weekend - on November 17th and November 18th.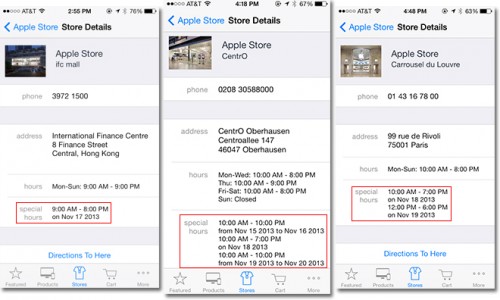 AppleInsider reports that:
It was discovered on Wednesday that a growing number of Apple Stores in Canada, China, France, Germany, Hong Kong, Italy, Japan and Spain will be closing early next weekend. For the most part, East Asian stores look to be shutting down on Sunday, while European locations vary from Sunday to Monday.

Earlier today, AppleInsider discovered a handful of Apple retail outlets were advertising early closing times, and more stores have been added to the list over the past few hours.
The reason for such early closures is still unknown, but according to some rumors it may be connected with iPad mini and Mac Pro launches. They're set for the end of November and the beginning of December.

Leave a comment