Apple to Announce Financial Results in Q1 2016 on January 26th

According to the latest announcement made by Apple on its Investor Relations portal, the company will release the report devoted to financial results in the first fiscal quarter of 2016, which is also the fourth calendar quarter of 2015 on Tuesday, January 26th.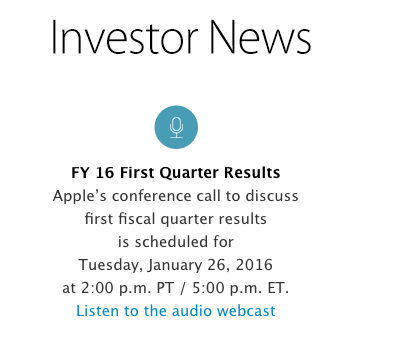 During the conference call, Apple is expected to unveil the number of iPhones and iPads sold during the holiday quarter as well as announce the revenue and net profit generated by the sales in the last three months. Immediately after the meeting, the company should post all the results on its official website, so that we can take a look at them and compare with the earnings in the first fiscal quarter of 2015.
So far, Apple has demonstrated subsequent growth in the numbers of devices shipped to customers and the revenue. This year may become an exception as many experts believe the demand for the iPhone 6s and iPhone 6s Plus is not as strong as it could possibly be.
We'll post a separate article dedicated to Apple's financial results in the first fiscal quarter of 2016, so stay tuned.

Leave a comment