iOS 9.2.1 Beta Has Been Successfully Jailbroken

It's been a long time since we heard anything about the jailbreak of iOS 9. This week, however, a developer named Luca Todesco has successfully jailbroken iOS 9.2.1 on his iPhone 6. As a proof, the hacker posted a screenshot showing Cydia running on his phone to Twitter.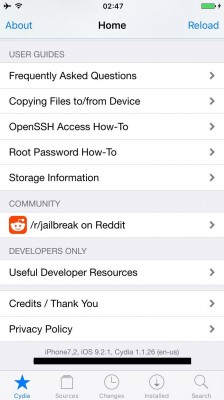 Even though on his Twitter Todesco mentioned that there will be no release of this jailbreak, this doesn't mean we won't see a tool for iOS 9.2.1 jailbreak at all. The hacker can share the results of his work with Pangu or any other team, just like he did last year with iOS 9 jailbreak.
TaiG, the team behind several iOS jailbreaks, has also been rumored to have an iOS 9.2.1 jailbreak, but Todesco says he's unsure if the two jailbreaks share the same exploits.
It should be mentioned, however, that it is very unlikely that we'll see a tool for untethered jailbreak of iOS 9.2.1 in the nearest future. iOS 9.2.1 is still a beta, which makes the release of the jailbreaking tool pointless. Apart from that, if someone shares the details of the jailbreak, Apple may patch it in the next build of iOS 9.2.1.
Stay tuned for more posts on the jailbreak of iOS 9.2.1 and other news connected with Apple and its products and services.
[via iClarified]

Leave a comment