Images Showing Display Backlight Assembly for iPhone 7 Surface Online

According to the leaked images first spotted on a Taiwanese website called Apple.club.tw, a backlight assembly for the upcoming iPhone 7 has a relocated 3G Touch chip and flex cables that make it different from the part used in the iPhone 6s and iPhone 6s Plus. Keeping in mind that the iPhone 6c will not support the 3D Touch feature and referring to the size of the components, we can assume that they are indeed designed for the iPhone 7. Apple.club.tw has a good track record, so the photos are most likely genuine and trustworthy.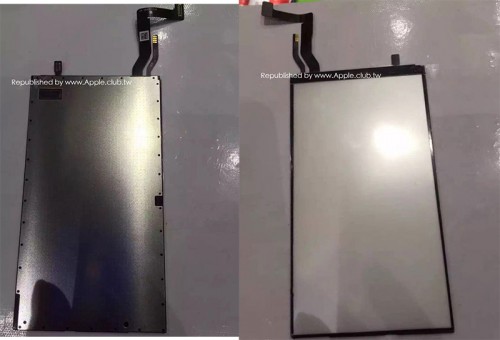 Apple.club.tw has accurately leaked or republished multiple Apple products in the past, including the iPhone 6 protruding camera lens, iPhone 6 logic board and iPad Air 2 logic board, but its February 2015 rumor about Apple adding Touch ID on the MacBook, Magic Mouse and Magic Trackpad has yet to happen.
Rumors suggest that the iPhone 7 will feature a new A10 chip manufactured by Taiwan Semiconductor Manufacturing Company, 3GB of RAM, new non-metallic waterproof body, better cameras and a number of other improvements.
The release of the handset will take place in the second half of 2016, possibly in September. Earlier, it was reported that Apple may change the usual product update cycle this year, but it looks like everything will remain the same.
[via MacRumors]

Leave a comment