Apple to Announce Financial Results in Q4 on October 27th

According to the latest post on Apple's investor news webpage, the company will officially announce its financial results in the fourth fiscal quarter of 2016 on October 27th. The conference call and the earnings report will, among other things, help us understand whether the start of iPhone 7 and iPhone 7 Plus sales in the USA and other countries was successful and whether the demand for these devices is strong.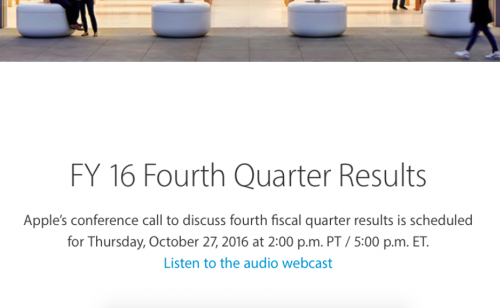 The expected revenue for this quarter is between $45.5 billion and $47.5 billion.
During the last quarter, Apple sold 40.4 million iPhones, 9.9 million iPads, and 4.2 million Macs. This accounted for the revenue of $42.4 billion.
Apple will offer a live broadcast of the event on its website. Apart from that, soon after the conference call the recording and the financial report will be publicly shared on the Internet.
Many analysts believe that the number of iPhones sold globally will fall this year. However, currently, the demand for the larger iPhone 7 Plus and smaller iPhone 7 is rather strong.

Leave a comment