Apple to launch iPhone 4S in China and 21 more countries January 13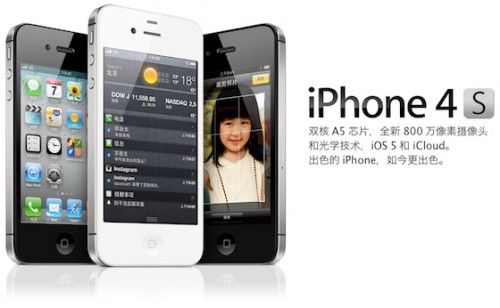 Apple finally announced the forthcoming debut of the iPhone 4S in China in a press release on Wednesday. The iPhone 4S is set to launch in China and 21 additional countries across the world on Friday, Jan. 13.
"Customer response to our products in China has been off the charts," Apple Chief Executive Tim Cook said in a statement. "With the launch in China next week, iPhone 4S will be available in over 90 countries making this our fastest iPhone roll-out ever."

In addition to China, Jan. 13 will also mark the launch of the iPhone 4S in Anguilla, Antigua and Barbuda, Bolivia, Botswana, British Virgin Islands, Cameroon, Cayman Islands, Central African Republic, Dominica, Dominican Republic, Ecuador, Grenada, Guam, Guinea Conakry, Ivory Coast, Jamaica, Kenya, Madagascar, Mali, Mauritius, Niger, Senegal, St. Vincent and The Grenadines, Trinidad and Tobago, Turks and Caicos and Uganda.
Rumors have suggested that Siri, Apple's voice-controlled personal assistant service on the iPhone 4S, will gain support for Mandarin, the most popular form of the Chinese language, by March of 2012. Noteworthy, some regional branches of China Unicom in mainland China had already gained profit from iPhone 4S launch having offered bookings for the handset in anticipation of the device's launch.

Leave a comment