Apple to Release 2 New iPhone Models, 3 Apple Watch Models and AirPods

Another confirmation of Apple's plans to release the iPhone 7 and iPhone 7 Plus as well as three new Apple Watch models and wireless headphones called the AirPods has appeared online. This time it is the Eurasian Economic Union (EAEU) certification document that is required for Apple to sell new products in Armenia, Belarus, Kazakhstan, Kyrgyzstan, and Russia.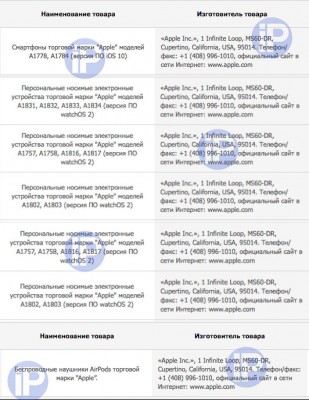 In particular, there are two iPhone versions discovered with model identifiers A1778 and A1784. Similarly, there are three Apple Watch 2 models with the following identifiers: A1831, A1832, A1833, A1834; A1757, A1758, A1816, A1817, A1802, and A1803. Finally, there is a certification document issued for the rumored AirPods.
Apple is expected to introduce the updated iPhone lineup on September 7th. The handsets will feature new processors, 3GB of RAM, better cameras, redesigned antenna bands and lack the traditional headphone jack. No headphone jack means Apple may ship new wireless headphones with the phones.
Alongside new iPhones, Apple may also unveil the Apple Watch 2 with a number of hardware improvements and watchOS 2 on board.
[via iClarified]

Leave a comment