Apple Trying Hard to Keep Up with iPhone 6 and 6 Plus Demand

According to the latest report from a research firm called Piper Jaffray, the guys from Cupertino still have problems in meeting the demand for the recently-released iPhone 6 and iPhone 6 Plus. Every week the number of smartphones produced increases, but the speed of such growth is too slow.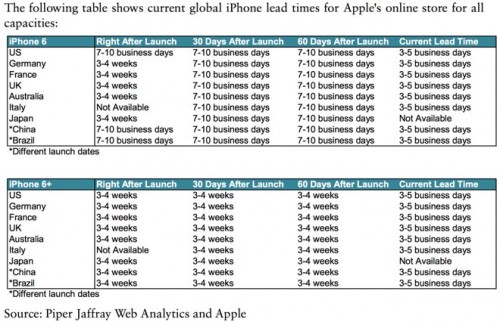 As noted by the firm's analyst Gene Munster, only 56% of basic iPhone 6 and iPhone 6 Plus models were in stock last Friday. The expert says that Apple will reach 80% availability by the end of this quarter. Whether the guys from Cupertino will manage to accomplish this task? Well, it is very difficult to make predictions as everything depends on the suppliers.
Surveys conducted by analyst Gene Munster found that only 56% of core configuration were in stock as of last Friday, December 12th. He believes that availability will improve to 80% by the end of the quarter; however, expectations were that Apple would reach 100% in-stock before the end of December.
What is interesting is that the iPhone 6 and iPhone 6 Plus supply is currently a bit lower than a month ago and noticeably lower than the supply of the iPhone 5s last year.
[via iClarified]

Leave a comment