Apple wants to improve OLED technology for potential use in future iPhones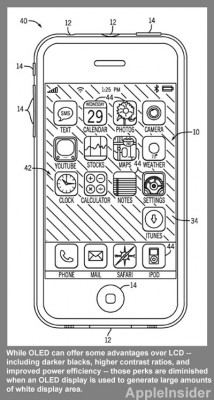 Apple demonstrates interest in improving OLED technology for future iPhone and iPad displays that will provide better battery life for such devices.  Earlier this week AppleInsider revealed a new patent application filled by Apple. The title of the patent is "Power Efficient Organic Light Emitting Diode Display" and describes different ways that could improve battery life, for example, displaying the color white.
OLED displays consume less power than traditional displays. This is possible because OLED technology is light emissive rather than light transmissive. But OLED displays, despite all their advantages, are less efficient that it is used for displaying a screen that is largely the color white, because an OLED panel has to utilize a range of color channels for every pixel on the display. Doing this can be power intensive and make the device inefficient.
For example, certain applications, such as word processing, spreadsheet design and use, database design and use, e-mail, and other business or productivity applications, typically utilize dark or black alphanumeric characters on a white background, such as to simulate writing or printing on a sheet of paper. As a result, these applications may cause the display of large expanses of white background with relatively little area devoted to the non-white alphanumeric characters. Such applications, therefore, may make the use of OLED displays unsuitable or undesirably power intensive for battery powered and/or portable electronic devices, such as handheld devices.
To solve that problem of displaying the color white, Apple proposed to use a transparent OLED display panel positioned in front of a solid white background layer. The display would also feature an opacity switchable layer located between the OLED panel and the background layer.
"The switchable layer may be switched, in whole or in part, from an opaque or semi-opaque state to a transparent or semi-transparent state," the application reads. "For example, in one embodiment, the switchable layer may be opaque, e.g. black, in the absence of a current. However, upon application of a current all or part of the switchable layer may be come transparent so that the underlying background layer is visible.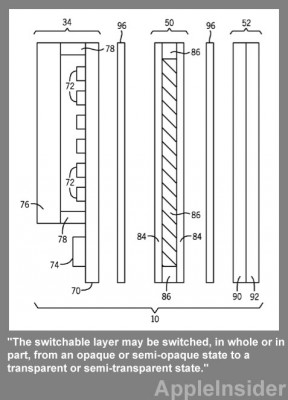 Leave a comment