Apple Watch Market Share Falls to 4.9% – IDC

According to the latest report from IDC, the Apple Watch market share declined 71% in the third quarter of 2016. Complicated interface and aging lineup are among the reasons that contributed to the decline.
The wearables market grew 3.1% year-over-year, mostly because of strong sales of cheap fitness trackers manufactured by Fitbit, Xiaomi, and Garmin. Total smartwatch shipments accounted for 23 million.
Apple managed to sell only 1.1 million Apple Watch units in the third quarter, the researchers claim. The market share was equal to 4.9%. In the year-ago quarter, the company sold 3.9 million Apple Watch units and took 17.5% of market share.
Other vendors of expensive smartwatches, for example, Samsung, also see a decline in shipments.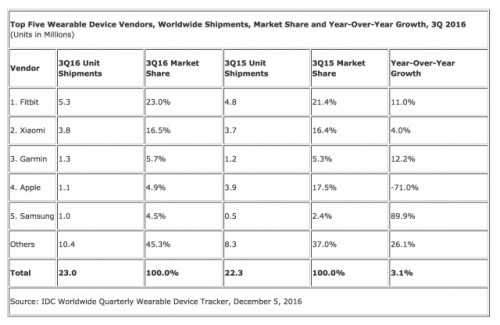 Apple CEO Tim Cook has commented on the issue, claiming the demand for the Apple Watch is incredibly strong and that the smartwatch may set a new sales record in the quarter. Who's right and who's not is unclear.
[via iClarified]

Leave a comment