Apple Watch Sales to Start in New Countries This September - Rumor

According to the latest rumor shared by a reliable source, the Apple Watch may be released in a number of new countries including Austria, Denmark and India later this month. The rumor comes from an Austrian website called MacMania. The reporters claim the information was obtained from a reliable insider working for a large electronics chain. There are no physical Apple Stores in Austria, so a big retailer can be a the only source of information about the launches of Apple products.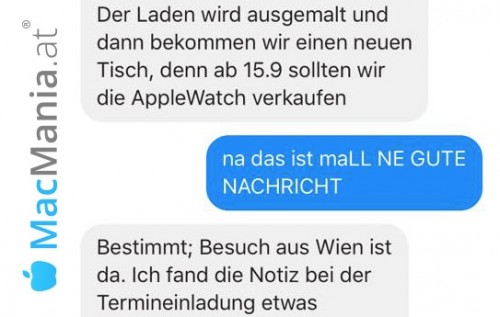 Austrian website MacMania claims that the Apple Watch will be available in Austria starting September 15, citing information it received over Facebook Messenger from a reputable source working for an undisclosed large electronics chain in the country. Apple does not have an official retail presence in Austria.
Another indication of the Apple Watch debut in new countries is a Danske Bank press release suggesting the wearable device will support the MobilePay service after the launch this September. One may also find some other rumors that come from Indian websites, however, they are less reliable.
Currently, Apple's first-ever smartwatch is available in 22 countries. There are three models, namely, the Apple Watch, the Apple Watch Sport and the Apple Watch Edition made of 18-karat gold.
[via MacRumors]

Leave a comment