Apple will Fix MacBook Pro Keyboard and Trackpad Lockup Issues

Apple is currently working on a fix for the late-2013 MacBook Pro bug that causes laptop's keyboard and trackpad to freeze from time to time. It was previously reported that the problem may be a result of the conflict between MacBook's hardware the operating system.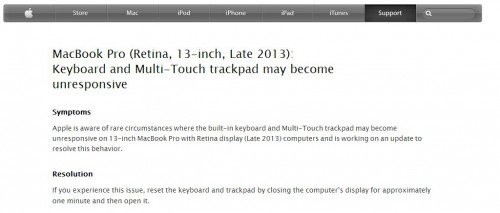 On its Support Pages, the company from Cupertino added a special short statement to inform users that it is aware of the problem:
Apple is aware of rare circumstances where the built-in keyboard and Multi-Touch trackpad may become unresponsive on 13-inch MacBook Pro with Retina display (Late 2013) computers and is working on an update to resolve this behavior.

If you experience this issue, reset the keyboard and trackpad by closing the computer's display for approximately one minute and then open it.
If you're one of those who has bought the new MacBook Pro, I suggest that you should wait for the OS X update.

Leave a comment