iPad Air is Now Available via Online Apple Store in the USA

iPad Air is now available for all those who live in the USA. What's interesting is that all the models can be picked up directly from the store, at least for now. Looks like the first batch of the devices won't be sold out immediately, like in Hong-Kong yesterday, but its Apple, anything can happen.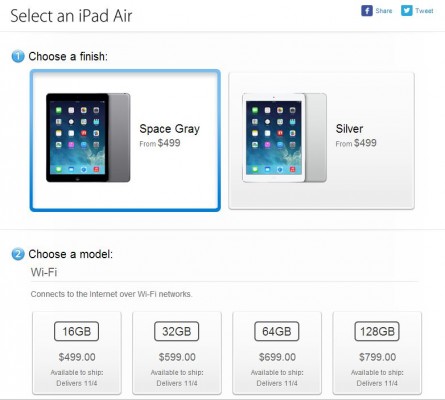 AppleInsider notes that:
Aside from ordering online, the iPad Air will also be available at brick-and-mortar Apple Stores starting at 8 a.m. local time. Prices start at $499 for a 16GB Wi-Fi model, then move up to $599 for a 32GB version, $699 for 64GB and $799 for 128GB. Apple is offering identical capacities with Wi-Fi + Cellular connectivity for an additional $130.
If you plan to purchase the iPad Air online, hurry up and order your tablet right now.
The fifth-generation full-sized iPad can boast of a number of significant improvements - it has become thinner and lighter and got some hardware tweaks.

Leave a comment