Apple's Market Capitalization Reaches $710.736 Billion - Yahoo Finance

Apple once again proved that it is one of largest companies in the world. In fact, yesterday the tech giant from Cupertino managed to reach the market capitalization of incredible $710.736 billion. This allowed Apple to grab the title of the first $700 billion company in the United States of America. Below you may take a look at the chart showing more details on Apple's achievement.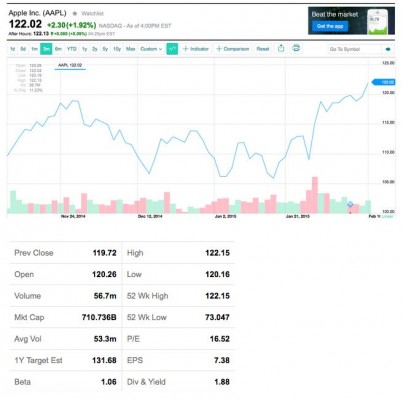 During the annual Goldman Sachs Technology and Internet Conference, Apple CEO Tim Cook was congratulated on such an impressive result of the work of his company.
Apple has just become the first $700 billion company in the U.S. The company's shares closed up at $122.02 today, giving it a market cap of $ 710.736B, according to Yahoo Finance.

It had crossed $700 billion during intraday trading in the past but never managed close above that level until today.
The guys from Cupertino managed to get such an outstanding result thanks to the strong demand for the new iPhone 6 and iPhone 6 Plus and the record-breaking sales of these devices during the last holiday quarter. In case you don't remember, back in January, the company announced quarterly revenue of $74.6 billion and quarterly net profit of $18 billion.
[via iClarified]

Leave a comment