Apple's Market Capitalization Reaches Incredible $700 Billion

Apple's market capitalization has recently hit another record-breaking point of $700 billion. This is a new milestone in the history of the company, which indicates that the stock value continues to grow making Apple one of the most successful, financially stable and richest firms of the entire world. Such a result has positive impact on Apple's status on the market as well as in the eyes of stock holders and rivals.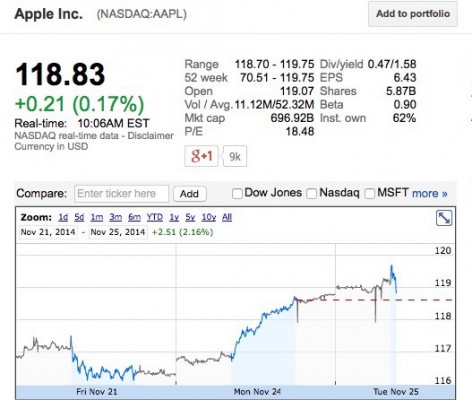 It should be noted that the market capitalization hasn't always been so high. Yes, it has doubled since 2011, after Tim Cook became CEO, that's true. Still, it hasn't been showing rapid rise until this year. In 2014, Apple's market capitalization went up 60% gaining 24% after company's iPad event held on October 16th.
Apple's stock continues its strong recent performance, hitting another milestone today with a market capitalization of $700 billion and once again setting a new standard as the highest market cap in history before pulling back slightly. The mark comes less than two weeks after Apple's market cap passed $660 billion to set its first new high in two years.
Financial experts believe Apple's market capitalization can rise even more in the near future. Especially after the official launch of the long-anticipated smartwatch and a larger iPad.
[via MacRumors]

Leave a comment