Apple's New Patent Decribes A New, Interactive Way of Reading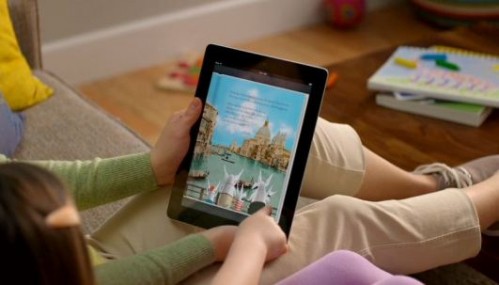 Patently Apple reported about Apple's new patent application from last week which describes some innovations in using new gestures in children's books in iBooks.
One such gesture will allow a child to tap on a word and have an associated picture, animation or video pop-up to make that word come to life. For those learning a foreign language, Apple has devised a gesture to have a word present itself in the student's native language so as to quicken the learning process.
Also you could press and hold a first and last word in a phrase to pop up the media content connected to the phrase. Static pictures could be used to illustrate nouns and short-length clips could define and explain verbs, the documents states.
Apple gives more details about such gestures like swipe of your finger over a word or a phrase to listen to the word or a phrase spoken aloud. It would be even possible for kids to drag their finger over a word to listen how it pronounced slowly. Also it describes gestures for adult books.

For example, with a double-finger swipe it would be possible to bring up audio data and images.
"Apple will give readers the ability to assign gestures like swipe, press-and-hold, tap, double-tap, flick, pinch, multiple finger tap, multiple finger press-and-hold and press-and-slide – to control the way information is presented to them".
This is worth attention as the company has never offered the capability to customize gestures in the iOS before.
It seems that some of the functionality described in a new patent may likely be useful in many niches of infotainment, including an interactive TV guide, music and others.
Apple's ideas can be used in electronic magazines where by tapping on gesture you could call up connected widget. For example, when reading an article in financial magazine about Apple you could tap on its NASDAQ symbol and financial widget would automatically open to show current stock price of the company.
It should be noted that none of these features was implemented in the latest iBooks 1.3 update appeared last month.

Leave a comment