Apple's Q2 2012 earnings call to take place on April 24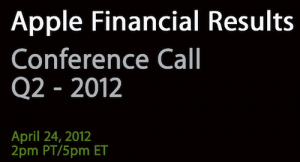 Apple yesterday updated its investor relations page to announce that it will report its earnings for the second fiscal quarter (first calendar quarter) of 2012 on Tuesday, April 24. The conference call is scheduled to follow at 5:00 PM Eastern / 2:00 PM Pacific.
Apple reported a blowout December quarter on January 24. The company made a record $13 billion in profit on sales of 37 million iPhones, 15 million iPads and 5.2 million Macs.
Though Wall Street doesn't expect Apple to have as big a quarter as last time, it has steadily been raising its projections on the strength of the launch of the new iPad and sustained demand for the iPhone 4S.
The release should provide some early sales numbers for the new iPad, which launched with just two weeks left in the quarter. The company previously announced that the device sold three million units in its first four days of availability.

Leave a comment