Apple's Siri can now shop for electronics by voice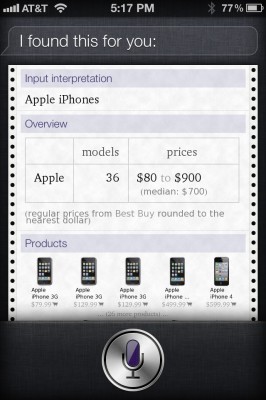 Apple is progressively expanding the capabilities of its Siri voice assistant feature of the iPhone 4S. Wolfram Alpha reports in its blog that it is now enabling its clients to browse Best Buy's electronics and appliances data provides iPhone 4S Siri users a new way to shop and compare products using their voice. The retailer's database includes 35,000 consumer products.
"We've taken the strengths we've developed in math, science, and socioeconomic data and created something equally unique and useful for online shoppers," the search provider stated.

Using either the web or one's own voice using Siri, users can search for a general product category or a specific product model and obtain a comprehensive report detailing product features, prices and availability, users ratings, price comparisons with similar models.
Users can even shop for products based on their specific needs, such as asking for "the lightest digital camera under $100 with a pixel resolution greater than 12MP," or compare multiple models. The Best Buy data is currently only available to users in the United States.

Leave a comment