"Beating Apple is #1 Priority" - Samsung

While Samsung claims it was Apple who started the severe rivalry a couple of years ago, it turns out it wasn't. Actually, quite on the contrary.
Back in 2012, the South Korean company issued an internal document, in which outlined "beating Apple" as the "#1 priority" for the year. Below you may take a look at the screenshot of the leaked document.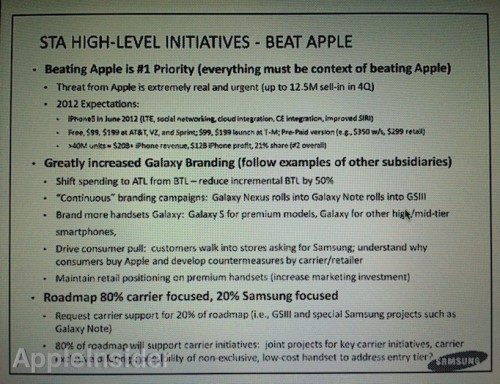 And here's what AppleInsider writes:
An internal document obtained by AppleInsider detailing Samsung's "lessons learned" in 2011 and its business forecast for 2012 (involved in the second Apple vs. Samsung trial this week) outlines that not only did Samsung see "Beating Apple is #1 Priority" but also that "everything must be context of beating Apple."
This document once again proves that Samsung was interested in creation of a handset similar to the Apple's iPhone. Well, at least this is what I think.

Leave a comment