Best Buy customer survey details 42-inch Apple HDTV with iOS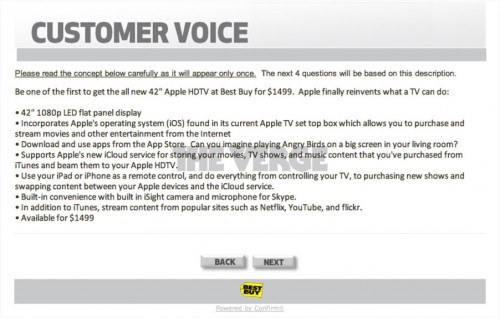 Best Buy has decided to carry out a survey related to the rumored Apple's HDTV powered by iOS that, noteworthy to say, has not been released yet. The questionnaire notes that the 42-inch Apple HDTV "finally reinvents what a TV can do," with a 1080p LED flat panel display, connectivity with iCloud, and the ability to use an iPhone or an iPad as a remote control, and "iSight" camera. Such details, however, look like speculations on the part of Best Buy. Since introducing FaceTime video chat, Apple has referred to its forward-facing cameras as FaceTime cameras, not iSight.
The full details from the survey follow:
Be one of the first to get the all new 42" Apple HDTV at Best Buy for $1499. Apple finally reinvents what a TV can do:

Incorporates Apple's operating system (iOS) found in its current Apple TV set top box which allows you to purchase and stream movies and other entertainment from the Internet
Download and use apps from the App Store. Can you imagine playing Angry Birds on a big screen in your living room?
Supports Apple's new iCloud service for storing your movies, TV shows, and music content that you've purchased from iTunes and beam them to your Apple HDTV.
Use your iPad or iPhone as a remote control, and do everything from controlling your TV, to purchasing new shows and swapping content between your Apple devices and the iCloud service.
Built-in convenience with built in iSight camera and microphone for Skype.
In addition to iTunes, stream content from popular sites such as Netflix, YouTube, and flickr.
Available for $ 1,499.

Leave a comment